How the shutdown of one player opened the door for so many and how regional bias will change your Heisman perspective for the rest of the season.
Thanks to Alabama's stifling defense the doors to Heisman candidacy, and the Heisman topic in general, have been busted wide open.  Although the award is national, the competition for candidacy can be dissected regionally.  Each region now has it's own unique in-house battle brewing with hopes of getting their name on the ballot and an invite to NYC.
Here's the quick 4-1-1 on how the Heisman voting breaks down.  Every region (see map above) has a Heisman Sectional Representative.  That Representative decides State Representatives and from there the State Representative selects media voters per state.  Overall each region is given roughly 145 votes for media members, totaling 870 altogether throughout the country.  Each former winner (58) gets a vote as well as one fan vote.  The ballot consists of three slots: first, second, and third.  Each slot is worth 3, 2, and 1 point respectively.
One rather obscure, yet validated, variable at play with Heisman Trophy voting is geographical gridlock. If a Heisman candidate is in a voting region with multiple Heisman candidates, there can be a negative impact. Voters in the six regions generally tend to be more familiar with a candidate in his or her own region, and thus, several candidates in the same region can split votes and prevent one candidate from winning it all. Likewise, having two candidates play on the same team can also cancel out both player's chances of winning the Heisman.*
Get it? Got it? Good.
If there's one thing Fournette's come-down-to-reality game did for college football, it has re-opened the discussion for who the Heisman winner will be.  With an open discussion, plenty of candidates have emerged as likely Heisman suitors.  With the ever-present regional bias, it's easy for us/challenging for voters to put their finger on who the 2015 Heisman Trophy winner will be in December.  Here are some likely candidates that could benefit from such regional bias:
Let's begin with the Far-West Region.  (Why it's called the 'Far-West Region and not just the 'West Region' is beyond me.  The Dakota's are basically in the middle of the country, but whatever).  The Far-West Region consists mostly of the Pac-12 and Mountain West Conference schools.
Of the 9 Heisman candidates, the only player from this region to make the  HeismanWatch's 'Poll of Poll's' this week (11/10) was Stanford RB Christian McCaffrey (pictured above).  With that said McCaffrey is in the drivers seat to win this region outright.  McCaffrey's 1,207 yards ranks him 9th nationally.  His 6 td's aren't that impressive unless you consider his backup has 10 rushing td's from inside the two-yard line.  Throw him a freakin' bone once in a while.  What is very impressive is the fact that McCaffrey is leading the nation in all-purpose yards with 242 yards per game and he just threw for a touchdown so there's that too.
One player who might not receive the recognition nationally in regards to the Heisman but is well-respected out (Far) West is Utah's RB Devontae Booker.  The stats aren't eye-popping, but his value to the 8-1 Utes is unmatched.  Booker leads the nation in rushing attempts (234) and overall touches (268).  Overall Booker has 1,417 total yards, 7th in the country and only 24 yards behind the almighty Leonard Fournette (1,441).
Obviously voters can vote for whomever they choose around the country. Considering most of the games in the Far Far West are on television so late, the 'regional bias' is likely to become more prevalent in this region than any other.   With that in mind I think one of these multi-dimensional RB's should have a strong case at the end of the season to have their name on the ballot.
Honorable Mentions: USC QB Cody Kessler and WR Juju Smith-Schuster.  Talented team. Dynamic players. Disappointing season.  Still the Trojans are 6-3, but with the season and the ability that these two possess, they should have been title contenders at this point of the season.  Kessler has 20 td's and 2,511 yards.  Smith-Schuster has 60 catches for 1,094 yards and 9 td's.  Good stats. Tremendous players.  Disappointing season.
Honorable Mention:Oregon RB Royce Freeman is 4th in the country in rushing yards with 1,287 and has 11 td's.  Same story here as with the previously mentioned USC players.  The team is not living up their potential and it's absolutely crushing their chances at winning the Heisman.
Honorable Mention: Wyoming….Yes, Wyoming RB Brian Hill (tiny picture to the right) is creeping up on Leonard Fournette for most rushing yards in the country.  You read that correctly.  Hill has 1,327 yards, only 56 behind Fournette.  Too bad the Cowboys are 1-9.
Next we have the Southwest Region or in other words the Big-12 Region with a splash of the American Conference.  Probably the most parody of all the regions in large part to the ridiculous amount of offense (or lack of defense) played in the Big-12 conference.  Three players really capture the headlines.  Oklahoma QB Baker Mayfield, Baylor WR Corey Coleman, and TCU QB Trevone Boykin (Baylor's QB Seth Russell was a strong Heisman candidate before injuring his neck and missing the rest of the season just a couple weeks ago).  All three men are putting up videogame type numbers.
Mayfield (pictured pointing to me probably) is leading the nation (active QB's only considering current leader Baylor's Seth Russell is out for the season) in passing efficiency with 186.8.  Mayfield has 28 passing td's to only 4 int's and 5 rushing td's.
Coleman has 20 receiving td's.  The next closest WR is TCU's Josh Doctson with 14.  Averaging a td every third catch, Coleman is on pace to shatter the FBS td receiving record held by Louisiana Tech's Troy Edwards with 27.
Boykin was everybody's #2 Heisman contender until a 4 int game and a blowout loss brought him back down to planet Earth.  Still Boykin has tremendous numbers.  He ranks in the top-5 for quarterbacks in passing yards, td's, rushing yards, and rushing td's.  Nobody has been responsible for more points (224) than Trevone Boykin.
Despite being on pace for a record-breaking season, Coleman is the darkhorse of the trio to win the Heisman only because the WR get's no love from Heisman voters.  (I don't know why that is either).  After all it's been 24 years since a WR on the award.  All three teams will play each other in the closing weeks.  A lot of football is still yet to be played and more importantly, a lot of Heisman opinions are still yet to be formed.
Honorable Mention: Houston QB Greg Ward Jr. (pic right) is arguably the best dual threat in the country outside of Trevone Boykin.  Ward Jr. is averaging 235 yards through the air and 93 yards on the ground.  His 16 rushing td's are tied for with Leonard Fournette for third in the country.
Now the South Region aka the SEC and Florida schools:  It's really a two dog race in this region with the winner to likely become the national favorite.  Fournette or Henry?  Henry or Fournette?  Alabama's RB Derrick Henry got the absolute best of LSU's RB Leornard Fournette last Saturday.  I don't think anybody thought they were expecting anybody to ever get the best of Fournette after his bullish start to the season.
Comparing the season stats I'll allow you to form your own conclusion.
Fournette: 1,383 rushing yards, 16 touchdowns, 173 yards per game.
Henry: 1,254 rushing yards, 17 touchdowns, 139 yards per game.
Head to head:
Last night's RB duel: Derrick Henry: 38 carries, 210 yards, 3 TD Leonard Fournette: 19 carries, 31 yards, 1 TD

— Saturday Down South (@SDS) November 8, 2015
There's no right or wrong selection for either of these two Heisman candidates if you ask me.  The troubling part for both these players is the likelihood of splitting votes.  An unfortunate yet respectable outcome for both these heavyweights in the Heisman game.
Honorable Mention: Mississippi St. QB Dak Prescott needs some recognition for carrying his team offensively.  Dak leads the Bulldogs in throwing, obviously, and the team leader in rushing.  He has 2,769 total yards, 25 total td's to only 1 interception.  Dak Prescott is the epitome of efficiency.
Honorable Mention: Texas A&M DL Myles Garrett is very likely to be the only defensive player on the ballot. His 10.5 sacks are good enough for third in the country and has accounted for 16 tackles for loss and has forced 5 fumbles.  A&M's recent slide out of the polls could also slide Garrett out of Heisman relevancy.
Let's move North to the Mid-West Region aka Big-10 country.  Maybe it's history that makes me think that Ezekiel Elliott and The Ohio State Buckeyes are going to finish with a fury this year. Even if they keep on keepin' on, what Elliott has done this year has been sensational.  If the Heisman went to the best player on the best team, Elliott would have won the Heisman weeks ago.  No longer considered the clear-cut best team despite being undefeated and defending National Champions (go figure), the most consistent player on The OSU team has been Elliott.  Best Player + Best Team =  Heisman Favorite.
Elliott (pictured below diving into the hearts of Heisman voters) is averaging 138 yards per game and has 14 td's, both of which are good for top-7 in the country.  A meeting with top run defense Michigan at the end of the season looks to be a make or break opportunity for Elliott that will either stifle his candidacy or catapult him to the forefront of the Heisman race.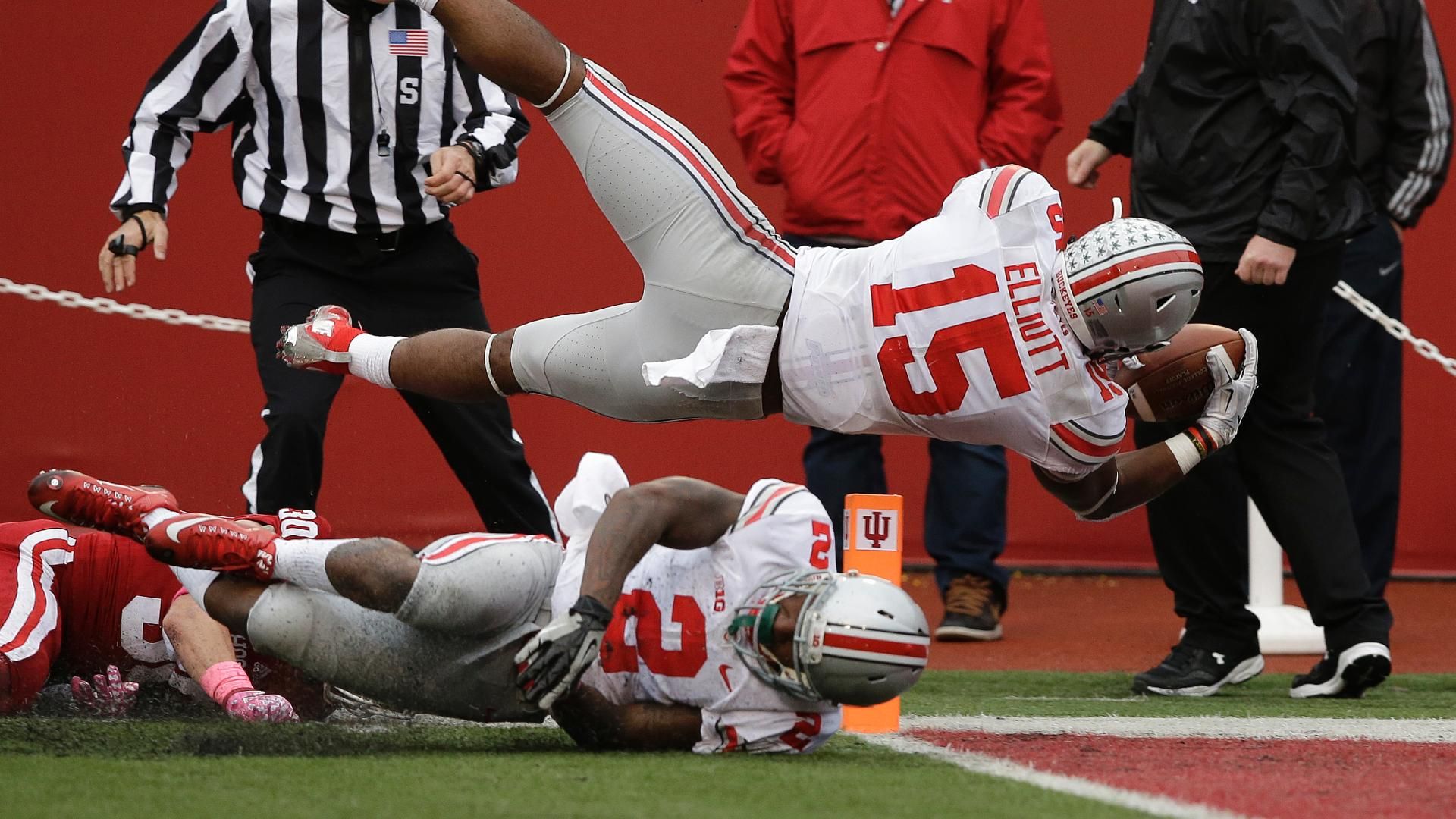 Honorable Mentions:
Notre Dame's WR Will Fuller has 44 catches for 900 yards and 12 td's.  Fuller is an elite WR and playmaker on a team with national title aspiration.  Fuller makes a strong case to have his name on the ballot if ND continues to win football games.
Bowling Green's QB Matt Johnson has 3,686 passing yards (2nd in the country), 33 passing td's (also 2nd), and only 3 interceptions for the 7-2 Falcons.
MSU's Connor Cook won't blow you away with statistics but he is a winner through and through (blown end of game calls were not his fault) and he's a top NFL prospect.  Cook still has a lot of important football to play and a strong finish by both him and the Spartans could land both parties into an important December voting.
Next is the Mid-Atlantic Region or ACC country with a bit of Big-10:  If last Saturday's performance put Clemson QB Deshaun Watson in the Heisman drivers seat for this region, FSU RB Dalvin Cook is sitting in shotgun.  On Saturday both players were remarkable.  Watson threw for 297 yards, one td, and ran for 107 yards.  Cook ran for 194 yards and a td. In this 'what-have-you-done-for-me-lately' world we live in, Deshaun Watson (pictured above this and that defender) and his Tigers team have been killing it.  Over the last four games Watson has averaged 311 ypg throwing and 73 ypg rushing, accounting for 13 td's in all.  It's no surprise to Clemson fans whw anticipated this type of play before the season even started.  Although his overall season stats are not comparable to other Heisman candidates such as Boykin and Mayfield, he is the hottest QB in college football right now on the hottest team in college football right now.  That means something in the eyes of Heisman voters.
FSU's Dalvin Cook simply put does not get the recognition he truly deserves.  Cook is 2nd in the nation behind Fournette in rushing yards per game with 154.  If FSU were undefeated at this point, #Cook4Heisman would be trending all over social media.  It's even hard to fault him for their two losses in which he's averaged 138 yards per game and a touchdown.
Watson and Cook clearly are the creme of the crop in this part of the Heisman country.  It would be a surprise to no one if one of these two landed a two-way ticket to NYC in December.
Honorable Mention: It's too bad college football doesn't have some type of 'Career Heisman Achievement Award.'  If they did there's no doubt Keenan Reynolds would walk away with the honors.  With a career total of 77 rushing td's, Reynolds next one will be an all-time record.  Sorry Montee Ball.  Oh, and the Navy Midshipmen are 7-1 and #22 in the AP Poll and #20 in the CFB Playoff Poll, their first time ranked since 2004.  Nice work Keenan.
Now for the region not particularly known for it's football as well as it's known for covering football, the North East Region ladies and gentlemen.  To put it in perspective the kind of football that's played in this region, Rutgers, Connecticut, Syracuse, and Boston College are a combined 14-24 this season.  With that said there is no player that will win the Heisman or even steal a third-place pity vote for that matter, from this region this year.  But this region does employ some of the great college football minds with the likes of Kirk Herbstreit, Paul Finebaum, and Tim 'freaking' Tebow! as well as a plethora of other 'expert' college football analysts. That's the beauty of this region.  It's completely subjective with no other ulterior motives.  Correction: It should be completely subjective with no other ulterior motives.
Who's your Heisman winner?
*Split vote victims: Rex Grossman (Florida) and Ken Dorsey (Miami) had 708 and 638 votes respectively while Eric Crouch (Nebraska) won the 2001 Heisman with 770. Matt Leinart won the 2004 Heisman with 1,325 votes while Oklahoma's Adrian Peterson (see video) had 997 and his teammate Jason White had 957. In 2002 Big Ten-based voters were split between Brad Banks (Iowa) and Larry Johnson (Penn State)—Banks tallied 1,095 votes, Johnson tallied 726 votes while Carson Palmer (USC) won with 1,328 votes.